It's been a busy week for the Marsden team installing a record 7 exhibition stands at this year's iGaming exhibition, ICE.  A record 68 nations came together at this year's ICE 2023, which opened its doors at ExCeL this week. The 623 exhibitors at ICE 2023 stretch from Argentina to Australia, Monaco to Mexico and Ukraine to the United States.  ICE London is the leading global gaming and gambling event that services the entire industry and will see 35,000+ gaming pioneers.   
We were lucky enough to provide stands for 7 key players in the industry.  Let's take a look at the stands.
Bespoke
Upgaming
Tembo
Vivo Gaming
Astrosystems Ltd
Modular
Time Solutions
Caleta Gaming
I base Solutions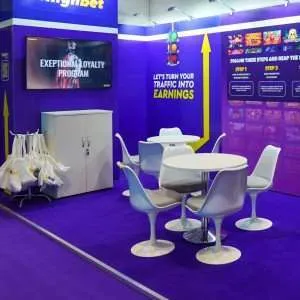 The show was a huge success and we have had some great feedback from our clients.  
Want help with your next stand?  Get in touch today!!!